DINAMIKA SOSIAL PENENTUAN AWAL BULAN HIJRIAH DI INDONESIA
Abstract
Penentuan Awal Bulan Hijriah di Indonesia selalu menjadi perhatian masyarakat Islam Indonesia khsusnya pada bulan Ramadhan, Syawal dan Dzulhijjah karena tiga bulan tersebut sering mengalami perbedaan. Fenomena ini berbeda jika dibandingkan dengan negara tetangga seperti Malaysia dan
Brunei yang cenderung memiliki keputusan bulat dalam penentuan awal bulan Hijriah. Tulisan ini mencoba untuk melihat fenomena tersebut dalam perspektif Pierre Bourdieu melalui Teori Habitus dan Teori Modal yang mempunyai pengaruh kuat dalam dinamika sosial di masyarakat. Merujuk pada teori tersebut, Dinamika Penentuan Awal Bulan Hijriah merupakan sebuah pertarungan modal antar ormas-ormas Islam Indonesia yang meliputi modal sosial, ekonomi, budaya dan simbolik meskipun Kementerian Agama RI telah menggunakan kriteria imkanurrukyat sebagai jalan tengah atas perbedaan yang ada. Selain itu, adanya terminologi Madzhab Hisab dan Madzhab Rukyat dalam wacana kalender Hijriah di Indonesia menunjukkan adanya simbolsimbol kekuasaan yang pada akhirnya akan menimbulkan kekerasan simbolik diantara kedua madzhab tersebut.
References
Abdulsyani, 2007, Sosiologi Skematika, Teori dan Terapan, Jakarta: PT Bumi Aksara
Al-Jawi, M. Shiddiq, "Penentuan Awal Bulan Kamariyah Perspektif Hizbut Tahrir Indonesia", makalah disampaikan dalam Seminar Nasional bertema Penentuan Awal Bulan Kamariyah di Indonesia: Merajut Ukhuwah di tengah Perbedaan, tanggal 27-30 November 2008 di Universitas Muhammadiyah Yogyakarta.
Al-Modarresi, S.M.T. & N.M. White, 2004, "Calendar Conversion for Real-time Systems", Journal of Advances in Engineering Software, Vol 35, 7 (Juli), 511- 516.
Azhari, Susiknan, "Gagasan Menyatukan Umat Islam Indonesia melalui Kalender Islam," jurnal Ahkam XV, no 2, Maret 1994.
_________, 2007, Ilmu Falak: Perjumpaan Khazanah Islam dan Sains Modern, cet. ke-2 Yogyakarta: Suara Muhammadiyah.
_________, 2012. Kalender Islam: Ke Arah Integrasi NU-Muhammadiyah. Yogyakarta: Museum Astronomi Islam.
Azhari, Susiknan, "Gagasan Menyatukan Umat Islam melalui Kalender Islam", Ahkam 15, no 2, Juli 2015.
Bouedieu, Pierre, 1986. The Forms of Capital dalam Richardson (ed), Handbook of Theory of Research for The Sociology og Education. Connecticut: Greenword Press.
_________, 1979, La distinction. Critique sociale de judgement. Paris: Minuit.
_________, 1980, Le sens Pratique. Paris: Minuit
_________, 1994. Raison Pratiques. Sur la theorie de I'action. Paris: Seuil Bardin, 1925, The Amazingly Accurate Calendar System of The Maya Indians, Journal of Scientific American University of Virginia, November, 312-315.
Butar-Butar, Arwin Juli Rahmadi, 2017. Mengenal Karya-Karya Ilmu Falak Nusantara: Transmisi, Anotasi dan Biografi. Yogyakarta: LKiS.
Djamaluddin, Thomas, "Proposal Ringkas Penyatuan Kalender Islam Global", Paper dipresentasikan dalam acara Seminar Internasional Fikih Falak di Hotel Aryaduta jakarta, 29-30 November 2017
_________, "Re-evaluation of Hilal Visibility in Indonesia", Warta LAPAN 2, no 4, Oktober 2000
Fauzi Fashri, 2014. Pierre Bourdieu, Mengingkap Kuasa Simbol, Yogyakarta: Jalasutra
Feener, Michael, 2007, Muslim Legal Thought in Modern Indonesia, New York: Cambridge University Press.
Hanapi, Mohd Syukri & Shahir Akram Husain, "Basis for Using Rukyah Method for Determining the Arrival of Ramadhan and Syawal in Brunei Darussalam". Journal of Islamic Studies and Culture 3 no 2 (Desember 2015): 13-15.
Hariwijaya, 2002, Islam Kejawen, Yogyakarta: Gelombang Pasang
Haryatmoko, "Menyingkap Kepalsuan Budaya Penguasa", dimuat dalam Majalah BASIS nomor 11-12 Tahun ke-52, November-Desember 2003.
_________, 2016. Membongkar Rezim Kepastian: Pemikiran Kritis Post-Strukturalis, Yogyakarta: Kanisius Huttenbach, Henry R, The Reconstrution and Evaluation of A Social Calendar As Primary Source for The History of The Jewish Community of Worms, Journal of World Union of Jewish Study, Juni 2014, 367-397.
Izzuddin, Ahmad, 2003, Fiqh Hisab Rukyat di Indonesia, Yogyakarta: Logung
_________, 2012, Ilmu Falak Praktis, Semarang: Pustaka Rizki Pitra.
Jayusman, "Kebijakan Pemerintah dalam Penetapan Awal Bulan Kamariyah di Indonesia", MADANIA 2, Vol 18, (Desember 2014), 185-187
Jenkins, Richard, 1992, Key Sociologists: Pierre Bourdieu, London and New York: Routledge
Khazin, Muhyiddin, 2004. Ilmu Falak dalam Teori dan Praktik, (Perhitungan, Arah Kiblat, Waktu Sholat, Awal Bulan, dan Gerhana), Yogyakarta: Buana Pustaka.
LF-PBNU, 2006, Pedoman Rukyat dan Hisab Nahdhatul Ulama, Jakarta: LF-PBNU
Liow, Joseph Chinyong, 2009. Piety and Politics: Islamism in Contemporary Malaysia, New York: Oxford University Press.
Longsstaff, Alan. Calendars from Arround the World, London: National Maritime Museum, 2005.
Long, Nicholas J., "On The Islamic Authority of the Indonesia State: Responsibility,
Suspicion, and Acts of Compliance", Journal of The Royal Anthropological Institute 23, no 4, (Desember 2017)
Mukhijab, "Muhammadiyah-NU Memanaskan Proses Politik", Pikiran Rakyat, September 12, 2014. Diakses 29 Oktober 2017. http://www.pikiran-rakyat.com/politik/2014/09/12/296630/muhammadiyah-nu-memanaskan-prosespolitik.
Moller, Andre, 2005. Ramadhan in Java: The Joy and Jihad of Ritual Fasting, Lund: Department of History and Anthropology of Religion.
Nafi', Muhammad Zidni, "Beda Lebaran, Warga NU Senang tetap Harmonis dengan
Muhammadiyah", Oktober 05, 2014. Diakses 16 Februari 2018. http://www.
nu.or.id/post/read/54903/beda-lebaran-warga-nu-senang-tetap-harmonisdengan-muhammadiyah
Nawawi, Abdul Salam, 2010, Ilmu Falak, Sidoarjo: Aqoba Press.
Odeh, Mohammad SH, 2006, New Criterion for Lunar Crescent Visibility, Journal of
Experimental Astronomy, Vol 18, September, 39-64254 | Dinamika Sosial Penentuan Bulan Hijriah di Indonesia
Istinbáth Jurnal Hukum dan Ekonomi Islam
Porter, Donald J, 2002, Managing Politics and Islam in Indonesia, New York and
London: RoutledgeCurzon
Revianur, Aditya, "Muhammadiyah Pastikan Tak Ikut Sidang Isbat ", Kompas,
Juli 19, 2012. Diakses 10 Oktober 2017. http://nasional.kompas.com/
read/2012/07/19/1328502/Muhammadiyah.Pastikan.Tak.Ikut.Sidang Isbat.
Rey, Terry, 2007. Bourdieu on Religion: Imposing Faith and Legitimacy, London and
New York: Routledge.
Ritzer, George, 2007. Modern Sociological Theory, Seventh Edition, California:
McGraw Hill Education
Rupi'i Amri, "Dinamika Penentuan Awal Bulan Kamariyah Menurut Muhammadiyah
(Studi Atas Kriteria Wujud al-Hilal dan Konsep Mathla')", Jurnal at-Taqaddum
4, no 1, Juli 2012
Saifullah, 2010. Sejarah dan Kebudayaan Islam di Asia Tenggara, Yogyakarta: Pustaka
Pelajar
Saksono, Tono, 2007, Mengkompromikan Rukyat dan Hisab, Jakarta: Amythas
Publicita.
S. Segan, "Uncertainties and Misconcepts About Calendars: A Project of A NonHistorical Calendar", Publication of Astronomical Observation Belgrade. No
80. 2006. 233-234
Sodli, Ahmad, "Dinamika Hubungan Antara Penganut Islam Aboge dengan Umat
Islam Lainnya di Kabupaten Banyumas", International Journal Ihya' 'Ulum adDin 28, no 2, 2016.
Sudibyo, Muh Ma'rufin, "Observasi Hilal di Indonesia dan Signifikansinya dalam
Pembentukan Ktiteria Visibilitas HIlal", Al-Ahkam: Jurnal Pemikiran Hukum
Islam 24, no 1, April 2014.
Stingl, Alexander, 2009, The Biological Vernacular from Kant to James, Weber and
Parson, Lampeter: Mellen Press
Tim Majelis Tarjih dan Tajdid PP Muhammadiyah, 2009. Pedoman Hisab
Muhammadiyah, Yogyakarta: Majelis Tarjih dan Tajdid PP Muhammadiyah.
Xin, Leong Wen, 2001. Lunar Visibility and the Islamic Calendar. Singapore: National
University of Singapore.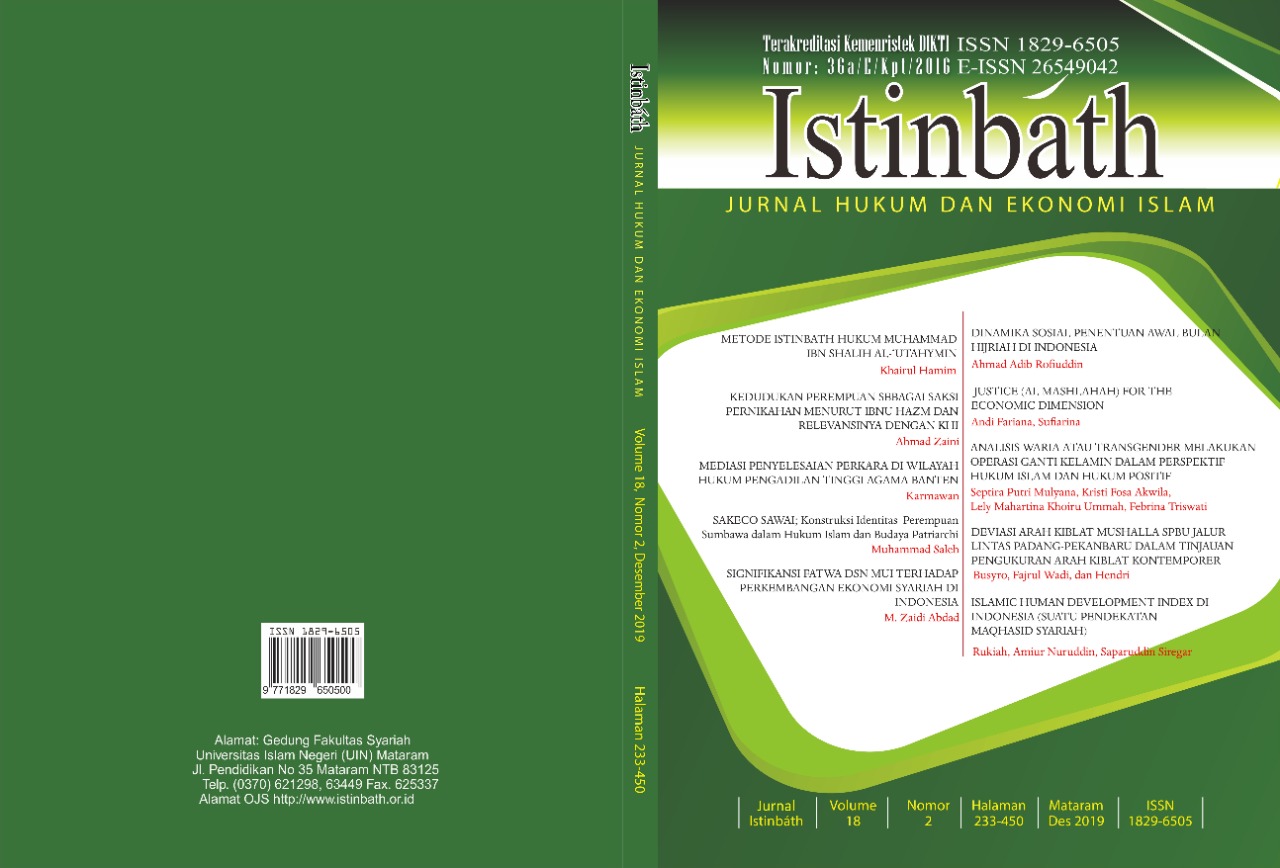 Downloads